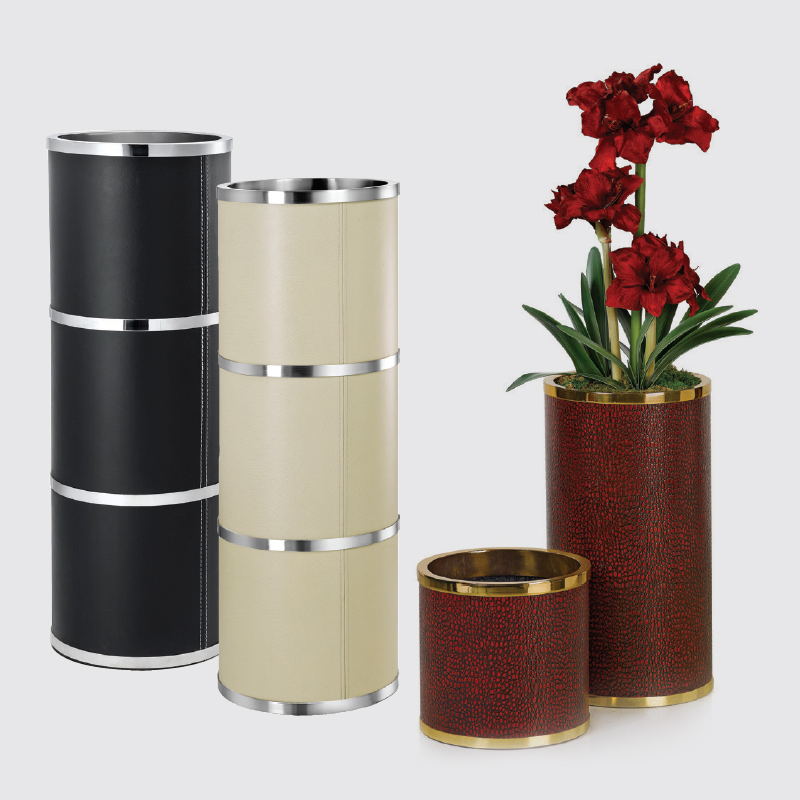 Cylindro Leather
The exclusive 'leather' range of planters, are cylindrical with variety coming from the heights, diameters, colours and textures.
A cylindrical tube forms the basis of the structure, onto which the leather is fitted. This is then accented with stainless steel at the top and bottom, providing both protection and a clean seamless finish to the planters. Taller planters also have stainless steel bands creating a segmented look. The vertical join can be either laced or stitched.
The leather is 'cowhide' and can come with a variety of 'embossed' textures such as; ostrich, stingray, patterned, natural etc. and in any RAL colour. Standard colours are black and white, other colours may require a minimum order.
All planters in this range are waterproofed with a 'false bottom' part way down the cylinder. These exclusive planters are generally hand made to order, so please allow sufficient lead in time.
Made with a synthetic cylinder base clad with genuine leather
Accented with stainless steel top lip and rings
100% waterproof
Suitable for indoor use
Detail





Dimensions