Indoor Landscape & Plant Maintenance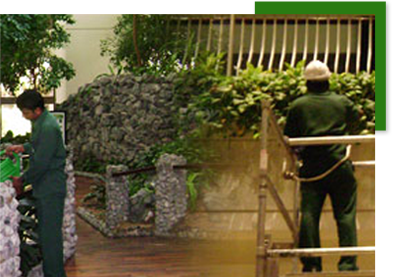 Siji Greenhouse has well over 100 active maintenance contracts.
The dedicated maintenance team is very experienced and headed by a well-qualified maintenance manager with over 10 years of relevant experience in the field.
Maintenance is a skilled operation made easier by appropriate initial design. Light levels are usually the most significant element, and at Siji Greenhouse we pay particular attention to this. If we are taking on a maintenance project designed by others we will conduct a careful survey and make recommendations for change if we feel it is necessary. This enables us to give very competitive rates, and provide a high-quality maintenance service.
If we approve plant selection, (or have carried out the initial design), during the course of our maintenance responsibilities, we will replace failing plants free of cost (with few exceptions). This is effectively a guarantee of our professionalism and quality of service.
Good maintenance requires an eye for detail, and a thorough knowledge of the plants and their idiosyncrasies, which needs to be applied to their in situ environment. This comes with experience and training which we provide to all our maintenance staff.
Our teams are well-versed in the above issues and are also discrete in their operations causing minimal disturbance to our clients.
A hierarchy is in place which ensures that all teams are supervised, and regular checks are carried out by management, with procedures in place to monitor activities and maintain client/contractor communication.
Our maintenance projects include many prestigious clients including Dubai Airport, Fujairah Airport, Dubai Festival City, ADNEC, numerous Hotels, banks and offices (large and small), many of whom have been our clients for a number of years and come to us for advice on expansions and/or new ventures.
At Siji Greenhouse, we believe in nurturing long-term commitments and relationships to both parties' mutual benefit. A discrete, well organized, operation with a quick response time and flexibility is our aim.